Funeral of schoolboy Scott Chiriseri, 5, held in Alva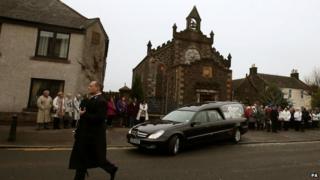 The funeral of a five-year-old boy found dead in Alva has been held.
Scott Chiriseri was found dead at his home in the Clackmannanshire town on 5 December. His mother has since been charged with assault and murder.
About 200 mourners led by Scott's father and family members gathered at Alva Parish Church for the service, then a burial at the nearby cemetery.
Farai Chiriseri appeared in court last week having been detained under the Mental Health Act.
A sheriff made a treatment order for the 32-year-old, also known as Chirashi, and no further court date was set.
Rev David Fraser told mourners that the youngster was "loved by all his friends", that he "excelled at his work" and was an "expert" at the video game Mario Kart.
Floral tributes were left outside the church, including one bearing the message "from the Alva community".