New 'no kill' rule as Tay salmon fishing season begins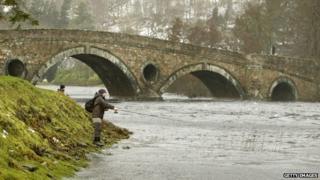 The salmon fishing season on the River Tay has opened with a statutory "no kill" rule in place for the first time.
The 2015 season was opened by TV actor and presenter Paul Young at 09:30 at Dunkeld.
New legislation means that all salmon caught prior to April must be released back into the water unharmed.
Anglers said it was an "important milestone" in the protection of early-running salmon.
Under the Tay Conservation Code, the vast majority of salmon caught from the Tay before April are returned.
Legislation which came into force on 9 January means the "no-kill" policy is now enshrined in law.
William Jack, chairman of the Tay District Salmon Fisheries Board, said the introduction of the legislation was an "important milestone".
He said: "This will make little difference to the majority of anglers, who already adhere to the Tay Conservation Code, as in the last five years over 90% of the salmon caught before April have been released.
"Now that releasing fish during this period is a statutory requirement, we look forward to consistent conservation up and down the system."
The provisional figure for the number of salmon caught on the river to the end of March 2014 was the highest since 1986, and Mr Jack said it was fair to assume the catch-and-release policy had contributed to this.
Board director David Summers added: "We have been greatly encouraged by the improvement in spring salmon catches in the last couple of years, so there is a great sense of anticipation as to what the spring fishing of 2015 is going to be like.
"The new conservation measures are widely welcomed by anglers and ghillies and will not affect this enthusiasm - quite the contrary."