Serial abuser raped pregnant women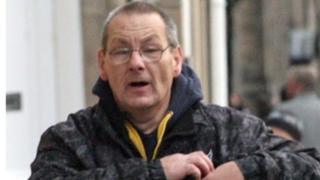 A man has been convicted of subjecting two women and seven children to horrific sexual and physical abuse.
David McLeish, 49, had denied the charges, but was found guilty of a string of offences by a jury at the High Court in Edinburgh.
His trial was told the victims - two of whom were raped when they were pregnant - had been aged between four and 43.
McLeish carried out the attacks at addresses in Perthshire between September 1996 and December 2009.
He was finally brought to justice after his victims found the courage to contact the police.
After a day and a half of deliberation, the jury convicted McLeish, from Perth, of four charges of rape and two charges of lewd and libidinous conduct.
He was also convicted of eight charges of physical assault and two charges of sexual assault following the trial, which had lasted more than two weeks.
Numerous occasions
The court heard McLeish started sexually abusing his first victim at a house in Perth in 1996, when she was aged just nine.
He then repeatedly assaulted and raped the young woman on numerous occasions, including when she was pregnant.
Between February 1997 and February 2000, he sexually abused and repeatedly attacked a young girl. She was aged just six when the abuse began.
McLeish also physically attacked a young boy repeatedly between September 1996 and October 2003. The boy was five-years-old when McLeish started striking him on the body with a belt and slipper.
He also repeatedly beat a girl aged four in October 1998 and continued to beat her until May 2002.
And he struck a five-year-old boy in October 1998 and picked on him on numerous occasions until 2004.
In June 2000, McLeish raped another pregnant woman.
The court also heard that he physically abused a boy aged five in November 2004 and continued to physically attack him for another two years.
Deferred sentence
In December 2006, at an address in Pitlochry, Perthshire, he sexually assaulted and hit a 14-year-old girl.
And three years later, McLeish raped a 43-year-old woman.
Temporary judge John Beckett QC remanded McLeish in custody and deferred sentence for background reports.
McLeish, who will be sentenced next month, was also placed on the Sex Offenders Register.
Police Scotland said it had been clear from the start of their investigation early in 2013 that McLeish had been a violent and sexual abuser of women and children throughout his adult life.
Det Sgt Marshall McKay, who led the investigation team, thanked McLeish's victims for the "strength and courage" they had shown in coming forward.
In doing so, they had ensured McLeish had been brought to justice and could not move on to abuse other people, the officer added.