Dundee launches electoral registration app for mobiles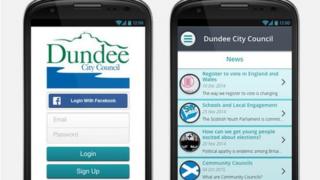 Scotland's first voter registration mobile app has been launched in Dundee.
The pilot project is aimed at encouraging young and first-time voters to join the electoral roll.
The app for Android mobile devices was developed by Modern Democracy in partnership with Dundee City Council.
Roger Mennie, Dundee City Council's electoral registration officer, said the move was designed to tap in to increased engagement in politics following the independence referendum.
He said: "With the massive upsurge in interest in politics and democratic engagement in the run up to the referendum, especially among first time and young voters, it is vital that we continue to keep this age group engaged.
"Making it is as easy as possible to register online and raising awareness through the new app are both effective ways of keeping the process in the front of their minds."
Aimed at senior school pupils, students and other young people information on how to get the app will be distributed by schools, colleges, youth groups and Dundee and Abertay universities in a bid to ensure as many young people as possible can vote.
The app provides information on voting related issues as well as a direct link the the application form for voter registration.
Trials of local registration apps are to be run by several other Scottish councils in coming weeks.