Rare wartime Magic comics fetch £15,000 at auction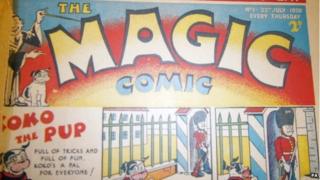 A rare collection of a wartime comic launched by the publishers of the Beano and the Dandy has sold for more than £15,000 at auction.
The Magic Comic was first published on 22 July 1939, and ran for only 80 issues before being cancelled due to paper rationing.
A bound collection of issues numbered one to 24 fetched £15,600 at auction, including a £2,600 buyer's premium.
The selling price smashed the original estimate of between £2,000 and £3,000.
The comic, by Dundee publisher DC Thomson, ceased production on 25 January 1941.
It included characters such as Koko the Pup, Sooty Snowball and Peter Piper, a boy bearing a striking resemblance to fellow DC Thomson character Oor Wullie.
The collection was put up for sale at city auction house Curr and Dewar by a woman who found it while clearing out her late father's possessions.
Auctioneer Steven Dewar said there are only thought to be eight to ten known copies of the first issue in existence.
He said: "There was a lot of interest in it.
"It is one of those collecting markets that just shows how rare that comic was, and to have a whole run of numbers one to 24 unbroken is a great draw and made all the difference to prospective buyers."
In 2004 and 2005, number one issues sold at auction for £1,331 and £1,925 respectively.