Large eagle owl seen on the loose in Perthshire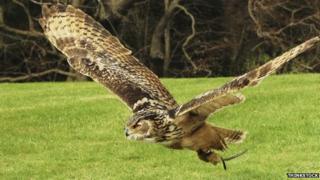 A large eagle owl has been spotted on the loose in Perthshire.
The bird of prey, which is much bigger than indigenous British species, has been a regular sight around Blair Atholl since before Christmas.
The owl is thought to have escaped from a falconer, as it has leather straps attached to its feet and there are no wild eagle owls in Scotland.
Eagle owls are popular among falconers and can have a wingspan of up to 6ft (1.8m) along with large talons.
They have been known to eat other birds of prey, as well as a wide range of birds and mammals.
Atholl Estate rangers warned that given the bird's size, it could even target small family pets.