New microscopic imaging centre at Dundee University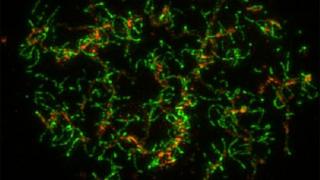 A new £8m microscopic imaging unit has opened at Dundee University.
The "cutting-edge" centre will help drive research in physical, medical and life sciences.
The Dundee Imaging Facility has been set up after two years of work and £8m of investment in imaging technology.
Objects already studied with the new imaging technology include 1,500-year-old sediment from a tsunami, chromosomes in the make-up of barley, and cells from the human body.
The facility provides support for research projects from a broad range of disciplines.
Prof Jason Swedlow, academic lead on the growth and development of the facility, said: "The opportunities for discovery based on biological microscopy are enormous, but these are perhaps equalled by the challenges in applying this rapidly evolving technology to important biological and biomedical problems.
"The new facility extends existing, proven expertise to the cutting edge and provides a vehicle for delivering this technology within a proven, sustainably run imaging facility that serves the scientific goals of users from Dundee, Scotland and the UK."
Facility director Sam Swift added: "The university's objectives are to develop transformational research areas, at the interface of the physical and engineering sciences with the life and medical sciences.
"These offer the biggest scientific challenges of our times."