Collection of Roman artefacts goes on display in Dundee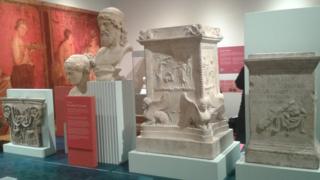 An exhibition of Roman artefacts from the British Museum has gone on show in Dundee.
The "Roman Empire: Power and People" collection consists of 160 items, including sculptures from the villas of Tiberius and Hadrian and coins from the Hoxne treasure.
The McManus art gallery and museum is the only Scottish venue on the collection's tour of the UK.
Entry to the exhibition is free, and it runs from Saturday until 10 May.
The display explores the wealth, power and organisation of the Empire, but also how the Romans viewed their provinces and other peoples.
Burial caskets, coins, jewellery and even clothing are among the items included in the collection of religious, military and personal objects which aims to give an insight into the lives of people across the empire.
Neil MacGregor, director of the British Museum, said: "Following the huge success of our major exhibition 'Life and death in Pompeii and Herculaneum', it is clear that the Roman world continues to fascinate and surprise us.
"I am delighted this exhibition, exploring the wider Roman Empire in relation to the British Isles, is now at the McManus."