Dundee's V&A Museum to be given another £6.5m from council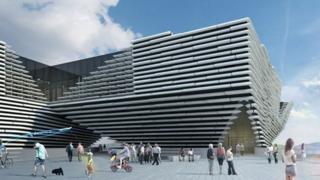 Dundee's V&A Museum has been given a further multi-million pound cash injection.
The city council has agreed to commit another £6.5m after it emerged construction costs had almost doubled.
The museum was originally due to be built on the city's waterfront at a cost of £45m but it has since increased to £80m.
Last week the Scottish government pledged an extra £10m towards the construction project.
And earlier it was announced that it was to receive £500,000 from the UK government's Coastal Communities Fund.
The museum is among 27 projects in coastal towns and villages in Scotland which will benefit from a total of £9.58m of funding.
Economic benefits
Dundee City Council believes the project will bring huge economic benefits.
It is seeking another £4.5m from the Heritage Lottery Fund which is due to meet on Tuesday. That is on top of the £8m the fund has already pledged.
The council has also appointed an independent expert to investigate the cost increase.
Work on the museum could begin in March.
The plans included seeking £22m of extra funding from the Scottish government, as well as £4.5m from the Heritage Lottery Fund and £6.6m from private fundraising.
The remaining sum of £6.5m would be drawn from the council's capital budget for 2015-18.