Lifeboat crews made record number of rescues in 2014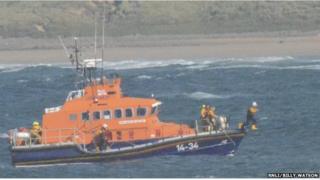 Scotland's lifeboat crews rescued a record number of people in 2014, according to new figures from the RNLI.
Volunteer crews went to the aid of almost 1,200 people last year, compared with just over 1,000 the previous year.
Broughty Ferry was Scotland's busiest station with more than 70 call-outs.
Scottish crews saved 51 people's lives across the year, including nine on one day at neighbouring lifeboat stations in July.
The total number of incidents attended was 1,004, a slight rise from the 995 recorded in 2013, during which 1,175 people were rescued, an increase from 1,008.
Michael Avril, the Royal National Lifeboat Institution's community incident reduction manager in Scotland, said: "The very nature of the sea means it is unpredictable and can catch out even the most competent water users.
"But it's not just people who set out to use the water who end up in it - walkers can get caught out too as conditions can change very quickly or a trip could mean they end up in the water.
"We would urge people to respect the water, and never underestimate the power and strength of the sea."
Neighbouring stations saved nine lives in two separate incidents on 9 July.
Two children were rescued from drowning by the Fraserburgh crew when John Chalmers, a volunteer on his second call-out with the RNLI, dived into the sea to save them.
Later that afternoon, Aberdeen Coastguard alerted the RNLI at Peterhead that the crew of a yacht, the Inchpincher, were in trouble after the vessel lost its mast 60 nautical miles out to sea in poor conditions.
The lifeboat crew towed the yacht, which had seven people aboard, back to shore, and were told that without the charity's intervention there would have been loss of life.
Broughty Ferry had 74 call-outs, while Oban and Queensferry were close behind with 68 and 67 respectively.