Scottish government informed of V&A overspend in April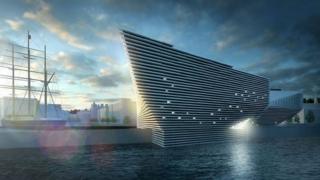 The Scottish government was informed that Dundee's V&A museum was running over budget months before the public were informed, it has emerged.
Culture secretary Fiona Hyslop was told that the project was over-budget in April and learned the full £80m price tag on 18 December.
It was not made public that the cost had almost doubled from the original £45m target until 16 January.
The council has launched an independent inquiry into the project's price rise.
Ms Hyslop made the admission in a written response to Mid-Scotland and Fife MSP Claire Baker, who had asked her when she was made aware of the costs.
Labour culture spokeswoman Mrs Baker had earlier called for a government investigation into the museum project, but was told such a move would cause "uncertainty".
She said: "The Scottish government knew as far back as April 2014 that the V&A was heading for both a dramatic overspend and further delay but kept that a secret.
"When the overspend was officially announced, almost a year later, the Scottish government acted shocked and took a weekend to cobble together a rescue package despite knowing the full increase in costs.
"That is why there is a clear need for an inquiry which includes the Scottish government."
Questions had been posed for several months about the potential price and timescale of the project, which could now be complete by the summer of 2018 if work gets under way by the end of March.
In a written response to Mrs Baker, Ms Hyslop said: "Dundee City Council kept the Scottish government informed, within the bounds of commercial confidentiality, of the contract negotiations.
"As part of this, in April 2014, the council informed the Scottish government that the price would not be met and that there was a potential impact on the site mobilisation planned for August 2014.
"The contract price of £80.11m published by Dundee City Council on 16 January 2015, was shared with the Scottish government on 18 December 2014."
Opposition councillors on Dundee City Council have speculated that the administration SNP group kept the spiralling costs a secret in the run-up to the independence referendum.
The council has appointed former Rangers football club chairman and public procurement expert John McClelland to chair an independent inquiry into how the project has progressed, and administration leader Ken Guild said members should make their views known to him.
A spokeswoman for the Scottish government said that while the government had been informed that the original cost estimate would not be met in April, it could not have disclosed this due to commercial confidentiality.
She said: "Disclosure of this information at that stage would have prejudiced substantially the commercial interests of Dundee City Council as the contracting authority."