Flood concerns raised over new T in the Park site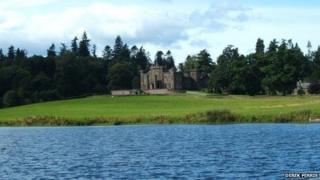 Concerns have been raised that the proposed new home of T in the Park could be prone to flooding.
The Scottish Environment Protection Agency (Sepa) has lodged a formal objection to the festival's proposed move to Strathallan Castle.
It said areas chosen as campsites could be at risk from localised storms and flash flooding, and should be moved to higher ground.
Festival organisers said they would address the points raised by Sepa.
Sepa's response to the planning application submitted to Perth and Kinross Council for the event stated that the proposed development could place people at risk from flooding.
Studies have seen up to 1.2in (30.5mm) of rain fall in a single hour in summer storms at the site, which has four small watercourses running through it.
'Excellent relationship'
The report noted that the objection could be removed if the campsites were moved to safer areas, but also stated that the matter could be referred to the Scottish ministers should planning consent be granted regardless of the objection.
A spokesman for festival organisers DF Concerts said the group had an "excellent working relationship" with Sepa, and said they would follow the environment watchdog's guidance.
He added: "In their letter, Sepa has specifically said they will revise their position if we adequately address their points - which we will.
"This is the norm for a planning process and we've always expected this, it would be highly unusual for any application to be rubber-stamped without conditions inserted, and of course they will require to be delivered."