Probe as 14 dead hens found in bin in rural layby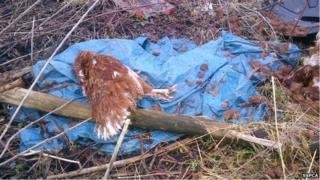 The Scottish SPCA is investigating after 14 hens were found dead in a dustbin in a layby.
The birds were found in the bin off the B818 Denny to Fintry road near the Carron Valley Reservoir on Thursday 12 February.
Six of the birds appeared to have been stamped on and crushed to death, while the others had had their necks broken.
The charity has appealed for information, saying the birds must have "suffered immensely".
Insp Louise Seddon, of the SSPCA, said: "A post-mortem revealed six of the hens had been held down and stamped on, crushing their ribs and causing internal bleeding. The other hens were killed when their necks were broken.
"Due to the two different methods of killing, this indicates two people might have been involved.
"At the bottom of the dustbin, there was loose chicken feed. These hens could have been rehomed and it's tragic they were killed needlessly - there are organisations which can help owners no longer able to care for their animals.
"The hens stamped on would have suffered immensely and we are very keen to identify those responsible for this cruel act."