Gleneagles Hotel fears over Strathallan T in the Park plan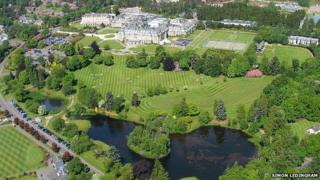 The Gleneagles Hotel has raised concerns about the proposal to hold the T in the Park festival at Strathallan Castle.
Agents acting on behalf of the upmarket hotel voiced fears about noise and traffic levels during the event.
They noted that on a still day, music from the festival could be heard at Gleneagles from its previous location at Balado, 20km (12.4 miles) away.
Festival bosses said they were in discussions with the hotel's managers.
The Gleneagles Hotel, which played a central role in hosting the 2014 Ryder Cup golf tournament, sits about 3km (1.8 miles) to the south of the Strathallan site.
Agents Colliers International noted that their clients had "real concern" about the noise levels from the event's main stage, which faces towards the hotel, and said they "cannot support the application as it currently stands".
They also raised worries that guests at the hotel could be "subject to anti-social behaviour as a direct result of unmanaged and uncontrolled pedestrian traffic during the course of the festival", and noted the "strong likelihood" of unauthorised satellite campsites being set up in the surrounding area.
Managing director Bernard Murphy underlined that the hotel had not formally objected to the event taking place, but had raised "specific matters" about which they wanted "greater clarity".
He said: "These matters principally concern noise, traffic management and public nuisance and have been discussed with DF Concerts over recent months.
"We hope that by raising these matters at an early stage, DF Concerts and the various public agencies involved will be able to be address them to minimise their impact on the local community.
"We recognise the appetite for this event and how important it is for tourism, but also want to ensure the best possible experience for our guests."
Opposition withdrawn
The comment on the application was lodged on the same day the Scottish Environment Protection Agency withdrew its opposition to the plans, with the 28-day formal consultation period drawing to a close.
Sepa had voiced fears over possible flooding at camping areas, but was satisfied that its conditions would be met following further discussions with organiser DF Concerts.
As of Monday, a total of 98 comments had been submitted to Perth and Kinross Council on the application, including 51 in support and 45 objections.
A spokeswoman for DF Concerts said it would be "highly unusual" if there were not "questions, clarifications needed and conditions set along the way", and noted that the group had been in "regular dialogue" with senior management at Gleneagles.
She added: "Their points are noted, but we are confident that T in the Park will not impact on the day to day running of the hotel."