Scottish Chelsea Pensioner celebrates 100th birthday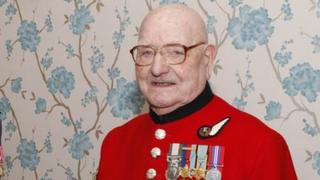 A Scottish veteran who is the oldest living Chelsea Pensioner is celebrating his 100th birthday.
Peter Carrie was born in Dundee in 1915, and is marking the milestone with a quiet gathering of his family in Scotland.
Mr Carrie, the oldest resident at the Royal Hospital Chelsea, served in the Air Force as well as the Army during World War Two.
This means he is the only resident eligible for the Bomber Command Clasp.
Mr Carrie joined the Army in 1934 at the age of 19.
He saw active service at the Khyber Pass prior to World War Two, and fought in France at the outbreak of the war.
He was badly wounded, and was one of the soldiers rescued from Dunkirk in 1940.
Mr Carrie's injuries prevented him from continuing his Army service, so he instead joined the Royal Air Force as a flight engineer on Bomber Command in 1943.
He served with 75 (New Zealand) Squadron, surviving bomber missions against Germany including over Hamburg and Wesel before he was demobbed in 1946.
The squadron flew more missions than any other Allied heavy bomber squadron, and suffered the second highest casualties of the Allied squadrons, losing 55,000 aircrew out of 125,000.
The Royal Hospital Chelsea was founded by King Charles II in 1682, and is home to about 300 former Army servicemen, including six women, all of whom are over the age of 65 and have no living dependants.