Three escape Stirling First Bluebird bus blaze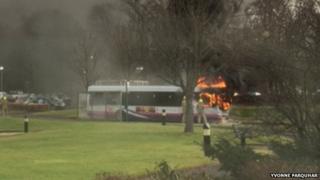 Three people escaped injury after a bus went on fire in Stirling.
The First Bluebird single-decker was at Stirling University Innovation Park when the incident happened.
The driver and two passengers managed to get out without being injured. The incident happened on Thursday morning.
A spokeswoman for First Bluebird said: "Incidents like this are rare and we are currently investigating what happened."
A University of Stirling spokesperson said: "Two fire appliances from Stirling Fire Station extinguished the fire.
"The affected vehicle will be removed."