Doctor jailed for watching child abuse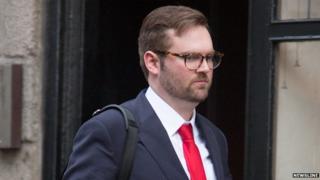 A doctor who paid a foreign woman to show him young girls' private parts over the internet has been jailed.
Kevin Titheridge was also caught with 366 indecent images of children at his Arbroath home and a flat in Aberdeen.
The 34-year-old was working as a trainee at Aberdeen Royal Infirmary when he made payments to a woman who had young children strip in front of a webcam for him.
Titheridge was jailed for three years and four months.
The medic was caught after police were told he had sent payments via online money service PayPal to an email account in 2012.
Text messages sent through web video messenger service Skype revealed that Titheridge had engaged in several conversations with a foreign woman, in which he asked to see naked young girls and asked for their ages.
His bank accounts confirmed several payments had been made.
Detectives have been unable to establish the identity of the woman who received the payments or the children involved. Prosecutors said the youngest girl he had seen would have been 14 years old.
'Devastating impact'
Titheridge pleaded guilty to intentionally obtaining the sexual services of a child or children under the age of 18 on various occasions between October 2012 and November 2013.
He also admitted possessing indecent photos and videos of children between June 2008 and November 2013.
His defence counsel said his client was sorry for his actions, and knew that "his life and his career now lie in ruins".
Passing sentence at the High Court in Edinburgh, Lord Kinclaven told Titheridge: "You are clearly an intelligent man - you have qualified as a medical doctor.
"It is clear that you have a number of friends and family who are supportive of you. The sentence that I am about to impose upon you will have a devastating impact on them.
"I must impose a custodial sentence on you. There is simply no other way of dealing with you."
Titheridge was jailed for three years and four months for paying for sexual services involving young girls, as well as nine months for possessing the indecent images, with the two sentences to run concurrently.