Historic Declaration of Arbroath carving found in Angus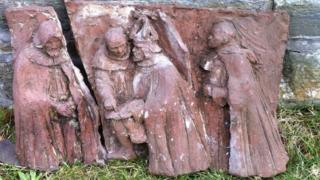 A carving thought to depict the Declaration of Arbroath has been uncovered in an Angus village.
The carving, which could be hundreds of years old, was found by Alasdair Murray close to the site of an old post road used by pilgrims in East Haven.
It appears to show Robert the Bruce and some monks consulting a document, thought to be the 1320 declaration of independence signed at nearby Arbroath.
Mr Murray and his wife Wendy have appealed for information.
The couple were clearing a piece of land formerly used by fisherman in East Haven, on the Angus coast, and found the carving at the bottom of a pile of rubbish.
They think it could be linked to nearby Arbroath Abbey, where a letter to the Pope intended to confirm Scottish independence was signed by dozens of Scottish noblemen.
Historical artefacts
Mrs Murray, a member of the East Haven Residents' Association, said: "It's possibly sandstone with clay on top, and it depicts a king, possibly Robert the Bruce, and three other figures.
"At the moment we have no idea how old this is, but it was found at a site very close to the old post road which pilgrims and travellers used to travel between the abbeys in Arbroath and St Andrews.
"It's always possible that the fishermen found this, or it was brought down from Panmure House, to the north, which was one of the most important historical houses in Scotland at the time."
A number of historical artefacts have been found around the East Haven area in recent years.
Mrs Murray asked for anyone with information about the carving to get in touch through the residents' association.
She said: "There have been coins found from almost every century back to the 12th century, there have been pilgrim's broaches, a crucifix found in 2013 which is now on display Edinburgh.
"If anyone can shed any light at all on where this has come from, what it's made from and how old it is, we'd be really interested to hear from them.
"We've had a visit from Angus Council officers and they'll be supporting us to make sure it's brought to people with the right archaeological experience."