Labour candidate turns down £1,000 donation from Tony Blair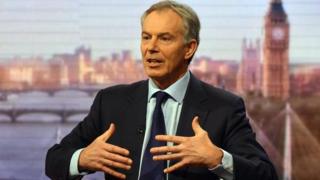 A Labour candidate for the general election has said she is turning down a £1,000 donation from Tony Blair.
Councillor Lesley Brennan is standing for the Dundee East Westminster seat on 7 May.
It has been reported that former prime minister Mr Blair is donating £1,000 to 106 Labour candidates.
Ms Brennan tweeted: "Received donation from Tony Blair. Instinct was to not accept. Discussed with team. Dundee East is not accepting the £1000."
No further explanation was given.
The SNP said the donations were an "embarrassment" to Scottish Labour because Mr Blair led Britain into the Iraq war.
But a Scottish Labour spokesman said: "This money is payable to the Labour Party and we look forward to receiving it and using it to campaign against the return of a Tory government."
Dundee East is currently an SNP seat. The local MP, Stewart Hosie, is defending a majority of 1,821.
When Mr Blair's donations were disclosed on Thursday, Mr Hosie, who is also the SNP's deputy leader said: "Tony Blair's bad money will do Labour in Scotland no good.
"The fact that Labour candidates are happy to accept donations from the man who led us into the illegal war in Iraq, introduced tuition fees and started the process of NHS privatisation is extraordinary."
Mr Blair won three successive elections for Labour in 1997, 2001 and 2005 before handing over to Gordon Brown in 2007.
According to the Labour list website, the target seats he has donated to include five in Scotland.
The other four are East Dunbartonshire, Edinburgh West, Argyll and Bute and Dumfriesshire, Clydesdale and Tweeddale.