Serial rapist Adam Carruthers given restriction order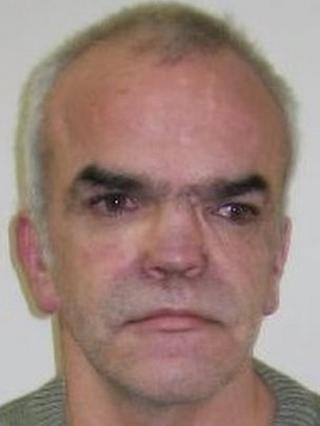 A serial rapist has been jailed and made the subject of an order for lifelong restriction.
A jury had convicted Adam Carruthers, 45, of 17 charges. They included rape, indecent assault, assault and breach of the peace.
Carruthers committed the offences in the Falkirk area and Edinburgh between 1996 and January 2014.
Passing sentence, Lady Wise told Carruthers he had displayed "serious and chronic sexual deviancy".
During his trial at the High Court in Edinburgh, Carruthers claimed he had never raped anyone, saying: "I am a caring person."
He told jurors he attended a Baptist church and suggested his accusers may have had a grudge against him.
He said to prosecutor Shirley McKenna: "You know what women are like. You do lie."
Carruthers, a labourer, has previous convictions for assault, breach of the peace, breaching bail and was previously put on the sex offenders' register for an attack on a 19-year-old girl with learning difficulties.
'Shunned by society'
Defence counsel Derick Nelson said Carruthers had been left damaged by his childhood and added: "He was shunned by his family and indeed shunned by many in society."
He said a report prepared on Carruthers had concluded that he was "a high risk in just about every category that exists".
Imposing the order for lifelong restriction, Lady Smith told Carruthers: "That order constitutes a sentence of imprisonment for an indeterminate period."
She ordered that Carruthers should serve at least nine and a half years in jail before he is eligible to apply for release on parole.
But the judge told him he must not assume he will be automatically released at the end of that period.
She added: "You have displayed serious and chronic sexual deviancy throughout your adult life."