Drug overdose man who attacked Ninewells doctor jailed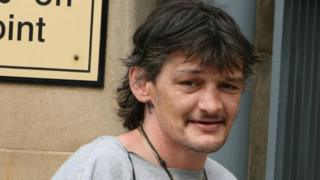 A man who attacked a doctor at Dundee's Ninewells Hospital has been jailed for a year.
Paul Gellatly was rushed to hospital after taking an overdose of unprescribed drugs, but attempted to punch the consultant who treated him.
The 43-year-old initially tried to claim he was acting in self-defence, but admitted the 9 July assault shortly before trial.
Sheriff Tom Hughes described the case as "an appalling state of affairs".
Gellatly, of Dundee, was taken to the Accident and Emergency department Ninewells Hospital in an ambulance after overdosing on gabapentin.
Dr Paul Reddick found him unresponsive, and after several attempts to wake him, applied pressure to his chest.
The patient then pushed the doctor away, swearing and trying to punch him. The incident was witnessed by a number of medical staff, and police were informed.
Gellatly initially told officers that he "didn't know what he was doing", but later lodged a special defence of self-defence prior to going on trial.
However, minutes before the trial at Dundee Sheriff Court was due to start, he instructed his lawyers to admit the charges of acting aggressively, threatening violence and attempting to punch the medic.
'Waste of time'
Jailing Gellatly for a year, Sheriff Hughes said he would personally apologise to doctors over their time being wasted on the case.
He said: "This is an appalling state of affairs.
"Hospital staff are under significant pressure and not only do you turn up creating a problem but you then try to assault someone who is trying to treat you.
"It's also strange you tell a police officer you don't remember what happened, then deny it and put in a special defence of self-defence.
"Then you come to a trial diet and plead guilty while two doctors are on standby to be called as witnesses for the trial.
"You have wasted a significant amount of their time, for which I myself will write a letter of apology, and you have wasted court time."