Stirling Council appeal over spate of life ring thefts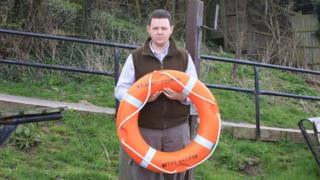 Stirling Council has warned that the theft of life rings from river banks could have "potentially fatal consequences".
Fisheries staff have reported a sharp increase in the number of life preservers going missing from river banks around the city.
Some of the rings have recently been replaced four times in as many weeks.
Fisheries officer Scott Mason said it was "vital" that the flotation aids were in place when needed.
He said: "While out on patrol in recent weeks we have definitely noticed an increase in the number of life rings going missing.
Mr Mason said that on one occasion every life ring between the Piers at the back of Cornton Vale and a section of the river by Forth Valley College had been taken.
He said: "With the warmer months fast approaching the river naturally becomes a more attractive area to be for people and it is vital that this lifesaving equipment is in place whenever it is needed."