Police and fire service probe Dundee hospital blaze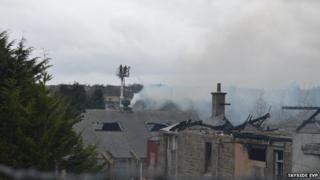 Police and the fire service are investigating the cause of a fire at Strathmartine Hospital in Dundee.
Fire crews were called to the derelict listed building on Craigmill Road at 13:41 on Monday after the blaze broke out in a roof space.
Firefighters have returned to the scene to dampen down hot spots using an aerial platform and cut away sections of the badly-damaged roof.
Officers are investigating what sparked the fire.
The former orphanage and psychiatric hospital was closed in 2003 and has been vacant since. A number of planning applications have been lodged since to develop housing on the site, although none have yet come to fruition.