Dundee man jailed over high-speed stolen car chase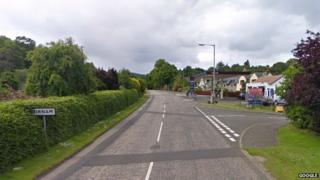 A drug addict who led police on a high-speed chase in a stolen car has been jailed for two years.
Steven Finnie admitted driving on the A9 on 11 January even after a stinger device deployed by police had blown out the front tyres on the car he stole.
The 33-year-old sped through a village at 70mph and drove the wrong way down the dual carriageway near Perth before officers forced him off the road.
He was jailed for two years and banned from driving for nine years.
Finnie, of Dundee, admitted a string of offences including stealing a set of keys and a Kia Picanto car from Earn Crescent in Dundee.
He also pleaded guilty to driving dangerously, while banned and unfit through drink or drugs.
Officers saw him driving erratically on the A9 in Perthshire, and gave chase as he turned off the trunk road and raced through Birnam at speeds in excess of 70mph.
As Finnie rejoined the A9, the front tyres on the car were burst by a stinger device deployed by officers, but he continued to drive south into oncoming traffic on the northbound carriageway.
'Absolute terror'
Officers feared for their safety and briefly discontinued the chase, before picking it up again as Finnie left the dual carriageway.
They managed to force him off the road when his speed slowed to 40mph due to the burst tyres. The heroin addict was found to be unsteady on his feet, and failed a drug impairment test.
At Perth Sheriff Court, Sheriff William Wood told Finnie he had "an unenviable record".
He said: "You embarked on a course of driving that must have caused absolute terror to other road users.
"It was a Sunday afternoon on a road known for various dangerous elements. This is quite appalling conduct, aggravated by you acting this way while unfit through drink or drugs and while disqualified."