National Trust for Scotland to take over Alloa Tower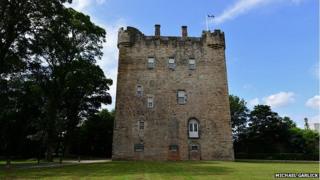 The historic Alloa Tower is to be handed over to the National Trust for Scotland (NTS).
The 14th Century keep, the largest and oldest of its kind in Scotland, is to be gifted to the National Trust by Clackmannanshire Heritage Trust.
It is the first property the NTS has acquired in seven years.
The handover will be completed by the charity's outgoing chairman Sir Kenneth Calman as his final act in the job.
Alloa Tower is the ancestral home of the Erskine family, the Earls of Mar and Kellie.
It was originally built to guard a ferry crossing on the River Forth, and was home to both James VI and Mary, Queen of Scots, during their childhoods - it was Mary who conferred an earldom on the Erskines in 1565.
The NTS has managed the tower since 1996, in partnership with the Clackmannanshire Heritage Trust and Clackmannanshire Council. The charity has pledged to improve the tower's reception area and provide new materials for visitors.
It is the first property taken into the Trust's ownership since the Burns National Heritage Park in 2008.