Two people die after light aircraft crash near Dundee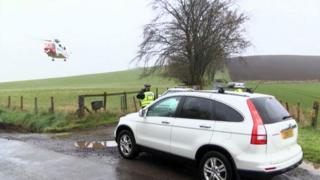 Two males have died after a light aircraft crashed near the Perthshire village of Abernyte, Police Scotland have said.
Rescue teams found the plane's wreckage close to the village, about 10 miles (16km) west of Dundee Airport.
The aircraft, believed to be flying from Inverness, was due to arrive at the airport at about 12:00 BST.
Air traffic controllers lost contact with the plane about four miles (6.4km) west of the airport.
An investigation has been launched and a report will be sent to the procurator fiscal.
The emergency services, including the coastguard, RNLI and the RAF had been helping with the search.
Lifeboat crews from Broughty Ferry and Montrose and a Coastguard helicopter from Inverness were called out.
Weather was poor when the plane went missing, with heavy rain, low cloud and gusts of up to 35mph (56kmh).
Dundee Airport operates only a maximum of two scheduled services a day, but is a popular base for light aircraft enthusiasts. A training school also operates from the site.
The airport is less than two miles (3.2km) from the city centre.