Two men jailed over Scotland-wide chequebook fraud spree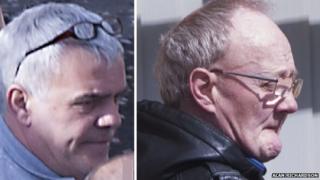 Two men who carried out a series of cheque frauds across the north and east of Scotland have been jailed.
Ronald Saunders and William Stewart used cheques from a stolen chequebook to buy a succession of cars and a Chihuahua dog.
Cheques for a total of more than £25,000 were handed over in Dundee, Forfar, Aberdeen, Kinross, Muir of Ord, Fraserburgh, Inverness and St Andrews.
Saunders, 57, was jailed for 20 months, and Stewart, 54, for 34 months.
Stewart took the chequebook from his brother before the pair set off around the country buying, over the course of a year, vehicles which had been listed for sale on the internet and by motor traders.
'No sympathy'
The charges against Saunders said he had bought vehicles with a total value of £8,945, none of which was recovered.
Stewart was charged with buying vehicles with a total value of £15,920, as well as a Chihuahua dog for £800.
All of the cheques bounced, as Stewart's brother had cancelled the chequebook when he realised it was missing.
Saunders, of Dundee, and Stewart, a prisoner at HMP Perth, both pleaded guilty to charges of forming a fraudulent scheme.
Sheriff Alistair Brown told them: "Those who embark on a fraudulent scheme of this scale must expect to be treated very seriously by the court.
"And those who cheat hard-working members of the public can expect no sympathy."