Aberdeen fans banned after pre-match fight in Dundee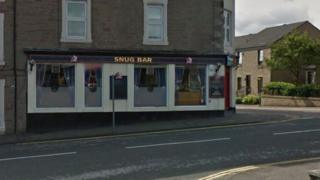 Two Aberdeen FC supporters have been banned from attending football matches for a year and fined for their part in a mass brawl with Dundee United fans.
Euan Stevenson, 20, and Scott Steppie, 21, were among 65 Dons fans being monitored by police ahead of a game in Dundee on 13 December last year.
The fight broke out outside the Snug Bar near Tannadice Stadium.
A sheriff told Stevenson and Steppie, who are both of Aberdeen, their behaviour was "shocking".
The men, who were appearing at Dundee Sheriff Court, both pleaded guilty to charges under the Offensive Behaviour at Football and Threatening Communications Act.
Steppie further admitted a charge of assaulting an unknown male by punching him on the head.
Three other fans - Anthony Steppie, 49, David Gowans, 21, and Kennedy Miskimmons, 39, all of Aberdeen, had their not guilty pleas accepted.
'Major disturbance'
Twenty police officers - including mounted police and dog handlers - dealt with the fight, the court heard.
Sheriff Donald Ferguson fined Steppie £690 and fined Stevenson £750 and imposed Football Banning Orders on both for a period of one year.
He said: "This is clearly a serious matter and a major disturbance that saw innocent members of the public caught up in it.
"It is absolutely shocking that we still see this kind of incident at football matches today.
"It was hoped that this kind of thing had been left in the past. If there is any repetition of this you will face prison sentences."
The case comes after three Dundee men admitted identical charges relating to the same incidents.
Lemmy Milne, 17, Alexander Middleton, 41, and Grant Fender, 29, appeared at Dundee Sheriff Court last week facing charges of being part of a disorderly crowd.
They are to return to court for sentence next month after admitting the charges.