Construction begins on Scotland's largest solar farm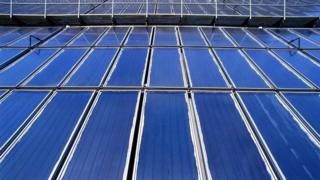 Construction has begun on Scotland's largest solar farm - which will have 55,000 solar panels.
70 acres of land at Carse of Gowrie on the Errol estate, east of Perth, will be devoted to housing the solar panels.
The 14MW scheme is expected to be operational by March, and will generate electricity all year round.
Bristol-based firm Elgin Energy has designed the site. It is being built by Canadian Solar which will initially operate the facility.
Canadian Solar will cover the site with enough panels to power more than 3,500 homes, via the National Grid.
Errol Estate was one of the first locations in Scotland to be identified as a potential solar farm site.
Property services firm Savills Smiths Gore said the project was proof that large scale solar systems work well on the east coast of Scotland.
Developers are continuing to source solar sites across Scotland with a view to developing schemes that are financially viable without subsidy support.
Thomas McMillan, Savills Smith Gore's energy director, said: "Solar technology has a far greater role to play in Scotland's energy mix than many people might realise - due to reducing installation costs and a climate of support from the Scottish government, we are continuing to see an appetite from developers to take forward new development sites, even with reducing subsidy support from the Westminster government."
The Scottish government announced it would retain a "grandfathering guarantee", where a project is guaranteed the same level of support for its lifetime, for key policies supporting investment in solar farms, despite Department of Energy and Climate Change (DECC) proposals to end the protection in England and Wales.
Mr McMillan said: "This announcement came at a crucial time for Errol, and it was instrumental in bringing this project to fruition."