Falkirk 'gateway' unveiled by council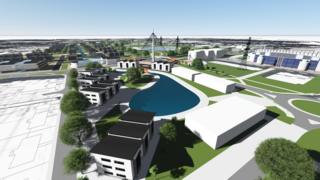 Falkirk Council has revealed plans to create a new "urban quarter" on the eastern side of the town.
The £17m project will create a more "sophisticated" and environmentally-friendly infrastructure in the area to attract private investors.
The council said it wanted to stimulate development over a 376-acre area and create better connections with the town centre and Grangemouth.
Funding will come from a Tax Incremental Finance (TIF) initiative.
TIFs are a way of funding public infrastructure projects that "unlock regeneration".
They work by using using predicted future tax gains - generated by the development - to finance the borrowing required for such big developments.
Falkirk Council's vision for its "Gateway" urban quarter was presented at a meeting of the executive on Tuesday.
The area takes in Falkirk Community Stadium, land earmarked for the new £70m Forth Valley College campus and Helix Park - home of the Kelpies.
Work on the site is due to start in 2017.
The leader of Falkirk Council, Craig Martin, said: "These exciting plans for a new sustainable urban quarter signal another step in the transformation of Falkirk's economic fortunes.
"The Gateway is a prime site to attract jobs, investment and development for our area."