'Lifestyle choice' criminal jailed for five years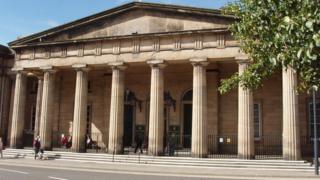 A serial criminal who rammed two police cars during a 90mph chase has been jailed for five years.
Arthur Bryce's 40-year criminal career, which included 122 previous offences, was described by a sheriff as a "lifestyle choice".
Perth Sheriff Court heard that Bryce was pursued along the A9 by police officers after he had carried out a series of housebreakings.
Bryce drove so dangerously police had to call off the high-speed pursuit.
The court was told that after escaping the police's initial efforts to catch him, Bryce broke into another house as its elderly occupants slept.
Bryce, from Glasgow, admitted 13 offences, including stealing a car, housebreaking and driving while disqualified and with no insurance.
He also admitted driving dangerously on various Perthshire and Highland roads on 3 January and breaking into a home in Newtonmore on the same date.
'Catalogue of criminality'
Solicitor Kevin McCarron, defending, said: "This could be categorised as a catalogue of criminality.
"It is as formidable a record as anyone will accumulate over the years.
"His adult life has been categorised by matters of dishonesty and associated road traffic offences. It just seems to be a lifestyle issue."
Sheriff William Wood jailed Bryce for five years and disqualified him from driving for eight years.
The sheriff told him: "It is abundantly clear from the offences that you are a man who lacks all moral compass and whose disregard for the law is fairly described as a lifestyle choice.
"It is extremely fortunate no-one was injured in your forays into houses or during the police chase."