Fire crews tackle blaze at Falkirk restaurant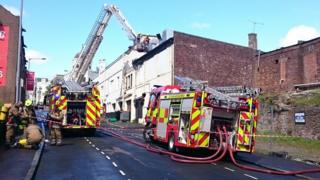 Firefighters have extinguished a blaze which broke out in the kitchen of a restaurant in Falkirk town centre.
Crews from Falkirk and Larbert community fire stations were called to the Sanam Indian restaurant in Callendar Road at about 11:00 on Saturday.
The premises were evacuated before firefighters tackled the blaze.
Crews then ventilated the building to minimise smoke damage and make the area safe.
Watch Manager Graeme Cuthill, from the Scottish Fire and Rescue Service, said: "Our crews were on the scene very quickly and this rapid intervention meant that damage from the fire was confined mainly to the kitchen area itself."