Volunteers to recreate and destroy replica of city landmark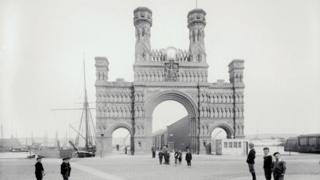 Dundonians have been invited to help recreate and then destroy a replica of a long-lost city landmark as part of a design festival.
More than 1,000 cardboard boxes will be transformed into a four-storey high replica of the Royal Arch on Saturday.
The structure will then be toppled and trampled by members of the public the following day.
Organisers of the free event are calling for volunteers to help build the structure using cardboard and tape.
The construction and destruction is the first large-scale public event to take place at Slessor Gardens and is part of the Festival of Architecture 2016 and Dundee's Ignite festival.
'Historic symbol'
Artist Olivier Grossetete will work with the public to recreate the Royal Arch over the weekend.
Mr Grossetete said: "This weekend we will revive a lost building, a historic symbol from Dundee's past.
"The challenge is to make it as true to the original arch as possible whilst simplifying it, so it can be built in the time we have available."
The original Royal Arch was built between 1849 and 1853.
It was constructed to commemorate Queen Victoria and Prince Albert's visit to Dundee in 1844.
It was demolished in 1964 as part of preparatory work for the Tay Road Bridge.