Declaration of Arbroath awarded Unesco status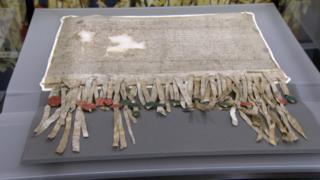 One of the most famous documents in Scotland's history has been recognised by the United Nations for its international importance.
The original Declaration of Arbroath has been awarded Unesco "Memory of the World" status.
The delicate document has not been seen in public for 11 years, when it went on display at the Scottish parliament.
It is a letter written to the Pope in 1320, voicing support for King Robert Bruce and an independent Scotland.
The declaration, which was written in Latin, is still regarded as a statement of a nation's claim to freedom. It was signed by the Scottish barons and pledged their resistance to English rule.
The document now joins hundreds of others that have been placed on the Unesco's Memory of the World register.
It is part of the organisation's works to build links with nations around education, science and culture. The register seeks to raise awareness of the word's documentary heritage - and help preserve it.
Unesco's Elizabeth Oxborrow-Cowan said: "I am delighted to welcome the Declaration of Arbroath onto the UK Memory of the World Register and I congratulate the National Records of Scotland on this achievement.
"This famous document rightly deserves the accolade of outstanding significance to the UK. It is a wonderful example of our remarkable documentary heritage both in Scotland and across the UK. I urge people to go out and discover this heritage for themselves."
---
Extract from the Declaration of Arbroath
"Yet if he (Bruce) should give up what he has begun, and agree to make us or our kingdom subject to the King of England or the English, we should exert ourselves at once to drive him out as our enemy and a subverter of his own rights and ours, and make some other man who was well able to defend us our King; for, as long as but a hundred of us remain alive, never will we on any conditions be brought under English rule. It is in truth not for glory, nor riches, nor honours that we are fighting, but for freedom - for that alone, which no honest man gives up but with life itself."
---
The declaration was written by Bernard of Kilwinning, then Chancellor of Scotland and Abbot of Arbroath, and was part of a broader diplomatic campaign to assert Scotland's position as an independent kingdom.
Scottish Barons also wanted Pope John XXII to lift the excommunication of Robert the Bruce, which was carried out after Bruce murdered his rival, John Comyn, in a church in Dumfries.
Tim Ellis, Keeper of the Records of Scotland, said the declaration told a "vital piece" of Scotland's story and thoroughly deserved its entry in Unesco's register.
He said: "We're proud to hold it in our collections at National Records of Scotland and to work to preserve it for future generations."
Culture Secretary Fiona Hyslop added: "The Declaration of Arbroath is a hugely significant document in Scotland's history and I welcome its inclusion in Unesco's register.
"Almost 700 years after the declaration was drafted, it is fitting that it has been globally-recognised."