Her Majesty opens waterfront gardens on Dundee visit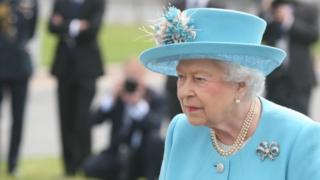 A key part of Dundee's £1bn Waterfront redevelopment has been opened by the Queen and Duke of Edinburgh on a visit to the city.
The royals officially opened Slessor Gardens as part of a series of engagements on Wednesday.
They also visited Dundee University's £10m Leverhulme Research Centre for Forensic Science.
Hundreds of people gathered in Dundee city centre to welcome the royal couple.
The Queen and Duke of Edinburgh also visited Michelin tyre factory's training school and workshop.
The Queen met participants in the V&A Dundee community garden project during the visit to Slessor Gardens.
Philip Long, director of V&A Dundee, said: "Our community garden project has shown how design can help improve lives, particularly by giving people the opportunity to shape the world around them and harness their own creative potential.
"Meeting the Queen is a great honour for everyone involved with V&A Dundee, and wonderful recognition of the contribution our community has made to designing this new and inspiring garden."
After a lunch in the City Chambers, the royal couple were shown around the Leverhulme Research Centre for Forensic Science by Professors Dame Sue Black and Niamh Nic Daéid.