Prisoner who threw cup of human waste at officer jailed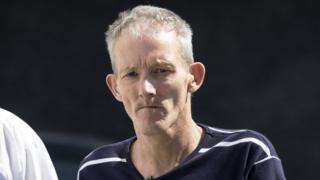 An inmate who threw a cup of human waste over a prison officer has been jailed for an extra 32 months.
Sean Collins dowsed the officer at Perth Prison in the attack, which was described as "particularly vile" by a sheriff.
Collins was serving a 10-month sentence at the time of the assault on 8 August last year.
The 48-year-old, from Dundee, admitted a charge of assault at Perth Sheriff Court.
Solicitor advocate Kris Gilmartin, defending, said Collins had been out of trouble for a number of years before getting involved in a feud with one of his neighbours.
He said Collins was "fixated" on the dispute and had displayed an element of "paranoia" in his dealings with his rival which had led him to spending time in jail.
'Particularly vile'
Mr Gilmartin said: "He got an Asbo directly as a result of the dispute and has been unable to properly deal with that.
"Within the prison setting it is his fear he has been persecuted by this and other prison officers."
Mr Gilmartin told Perth Sheriff Court that Collins' behaviour behind bars had led to him spending more than nine weeks of the 10-month sentence isolated in solitary confinement.
Sheriff Lindsay Foulis said: "This is a serious offence because of where it took place, the role of the complainer - a prison officer - and your record.
"You have a tendency to buck against authority and this offence is a particularly vile one.
"I have no doubt whatsoever that custody requires to be imposed.
"It is a dirty assault and the consequences for the prison officer could potentially have been quite significant, although thankfully they weren't."