Farmer fined after cyclist hits illegal ramp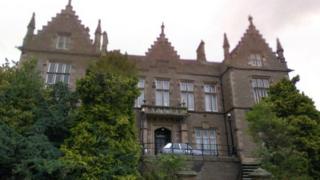 A cyclist suffered a punctured lung and shattered collarbone after hitting an irrigation pipe concealed by stones and chippings, a court heard.
Martin Kearney, who runs Lundie Farm in Angus, had laid the pipe across a road to help irrigate two fields.
But Scott Crowe did not see the obstruction until it was too late and was thrown from his bicycle.
Kearney, 32, was fined £950 at Forfar Sheriff Court.
The court was told that the pipe had previously been put down with a bright blue ramp over it but Kearney had received complaints from motorists about its steep gradient.
In response, Kearney put down road chippings on the ramp to cover it up and make it easier for drivers to negotiate.
However, this camouflaged it from Mr Crowe, who hit it at speed as he cycled downhill.
'Landed heavily'
Depute fiscal Isma Mukhtar told the court: "He required surgery and intensive rehabilitation as a result.
"He was thrown from his bicycle and landed heavily on his left shoulder.
"He got to his feet eventually and called his wife who summoned an ambulance."
Ms Mukhtar said that police contacted Angus Council's roads supervisor, who told them he had not been informed about the work being carried out.
The supervisor told police that if he had come across the obstruction he would have had the road closed immediately so it could be removed.
Kearney admitted a charge under the Roads (Scotland) Act.
Defence solicitor David Cairns said: "He had instructed a contractor to lay this pipe on two previous occasions but had had complaints about the gradient of the ramp put over it causing damage to cars those times.
"On this occasion he took it upon himself to place hard road planings over the ramp.
"He did that to decrease the gradient on the ramp and received no further complaints from motorists, but it appears to have disguised the ramp from the cyclist.
"There was certainly no malicious intent."
Sheriff Pino di Emidio told Kearney: "This is an offence that perhaps doesn't often come before the court.
"This incident caused significant injury to the cyclist."