Driver treated for burns after van bursts into flames in Perth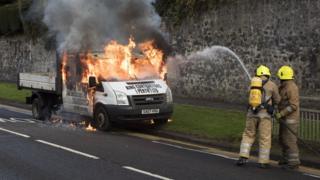 A van driver has been treated for burns after his vehicle burst into flames on a road in Perth.
A fire crew attended the incident on Dundee Road, near Kinnoull Parish Church, at about 09:15.
The driver, who works for King Contractors (Perth), left the vehicle after noticing smoke. He sustained a burn to his hand.
A spokesman for the company said the fire was understood to have been caused by an electrical fault.
The road was closed by police while the fire crew extinguished the blaze.