Child welfare expert falsely claimed to be doctor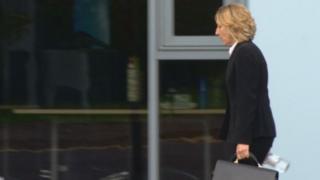 A child welfare expert who falsely claimed to be a doctor has been found guilty of professional misconduct.
Susan Stewart lied about having a PhD in psychology from Stirling University and presented herself as a doctor between 1995 and 2012.
She ran Scotland's Child and Family Assessment Centre and gave evidence before the Scottish Parliament's Finance Committee.
Stewart, 47, faced being struck off the social worker's register.
A Scottish Social Services Council (SSSC) conduct sub-committee opted instead to impose a five-year warning on her registration with the social services watchdog.
They will publish a full written decision in the case detailing their reasoning within two weeks.
Fictitious qualification
A seven-day hearing was told Stewart authored family assessment reports for use in sheriff courts and children's hearings, which were allowed to go out bearing the name "Dr Susan Stewart".
Stewart, who holds degrees in social work and psychology, studied for a PhD in psychology at the University of Stirling between 1992 and 1995 but did not complete her studies.
After accepting a teaching post at the same university in 2012, a police investigation revealed that the CV submitted in support of her job application falsely declared she was entitled to be called Dr Stewart and the PhD qualification was fictitious.
Prior to her move to Stirling, Stewart had held various senior social work posts within the Aberlour Child Care Trust.
She told the hearing that while at Aberlour she had co-authored a family assessment report for submission to a children's hearing then went on annual leave.
When she returned she saw that it had been issued from Dr Susan Stewart.
She told the hearing: "When I came back from leave I saw that six copies of the report had been issued.
"My title of doctor was on it. At that point I should have corrected it.
"I know that I should have said something. I panicked, because the reports had already gone to a hearing."
Stewart said after that point she "buried her head in the sand", fearing she would lose her job.
During her time at Aberlour, Stewart allowed numerous reports to be issued with the recipients believing they had been compiled by a social worker who held a PhD.
She was offered a job at the University of Stirling by Prof Brigid Daniel who knew her as Dr Stewart.
Stewart said: "I felt really bad that I had lied to a colleague. She thought a lot of me and I felt ashamed and guilty.
"I should have behaved differently. I feel like I have let the profession down."