Rapist jailed over nude phone photos threat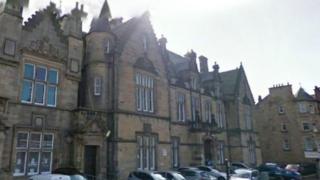 A convicted rapist who threatened to send nude pictures he found on a student's phone to her friends has been jailed for two-and-a-half years.
Andrew Allan, 43, was told by a sheriff that his behaviour had to be seen against his background of "extreme sexual violence".
Stirling Sheriff Court was told the 20-year-old victim lost or had her phone stolen during a night out in Falkirk.
Allan was given a five-year extended sentence to follow his release.
The court was told the phone contained nude photographs the student had sent exclusively to her boyfriend.
Two months after losing the phone, she received an email from Allan, who she did not know, with the subject line "I know all about you."
The message read: "Maybe I'll send the acid tab video to your mum and the naked ones to people on your friends list. I wrote it all down.
"What's it worth to keep them all private?
"Get back to me soon or I'll start posting."
'High risk'
Prosecutor Lindsey Brooks said Allan's victim was "alarmed and distressed".
The victim received another email from Allan threatening to post the pictures.
The court heard the woman then contacted police, who traced the emails to Allan via his IP address.
Allan, of Grangemouth, admitted a charge under the 2009 Sexual Offences (Scotland) Act.
Sheriff Wyllie Robertson told Allan: "You have a record for violence generally, but also for sexual violence of the most serious nature and you are assessed by social workers as at very high risk of further sexual offending."
Allan was jailed for four-and-a-half years in 2003 for raping a 30-year-old female guest at a hotel in Perthshire.