Rise in Dundee unpaid work court orders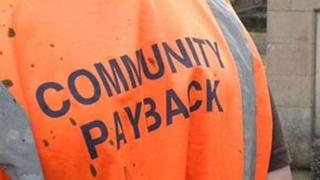 Almost 39,000 hours of unpaid work was carried out in Dundee last year by people on community payback orders, according to a new report.
A total of 793 community payback orders (CPOs) were made in 2015-16, up 76 on the previous year.
Activities included installing ramps to improve disabled access, painting, decorating and preparing food parcels.
The work was carried out through 75 team projects and 33 individual placements.
The report will be considered by the council's community safety and public protection committee on Monday.
Significant contribution
Its convener, Alan Ross, said: "When a CPO is imposed it helps to keep low risk offenders out of jail and at the same time ensures their time and effort is spent making a positive contribution through unpaid work that benefits people and the environment.
"As part of their unpaid work offenders are also required to focus on areas such as victim awareness, alcohol or drug education and literacy and numeracy tutoring, all of which can contribute significantly to a reduction in reoffending ."
The report notes that people and organisations who had unpaid work carried out reported a 100% satisfaction rate.
In addition, 94% of people who were placed on CPOs reported satisfaction with the work and support provided to them.