Segregated prisoner stabbed and slashed guards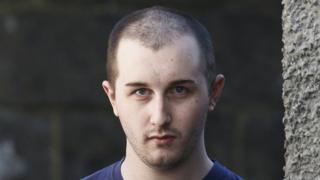 A Perth prison inmate who attacked two guards with a metal blade made from a mop has been sentenced to an additional six years in jail.
A court was told Anthony Elliot, 25, who is kept segregated from other prisoners, asked for materials to clean his cell.
Later that day he stabbed one guard with the makeshift blade and cut another warden on the back.
High Court judge Lady Rae described Elliot as "a very dangerous young man."
The High Court in Glasgow was told that Elliot, whose earliest release date is 2027, is the subject of an order for lifelong restriction and may never be released from jail.
Four prison officers entered the cell to collect the cleaning materials and noticed that Elliot was acting suspiciously, with his right fist clenched.
Elliot jumped from his bed and stabbed officer Steven Keenan close to his heart and lungs using the sharp piece of metal wrapped in a T-shirt, causing superficial wounds.
Guard John Jewell grabbed Elliot's arm and a third guard held on to his legs.
As this was happening Elliot cut Mr Jewell four times on the back with the weapon.
Prosecutor John Scott QC said: "The accused was not detained, arrested or interviewed as he was considered too violent.
"He was immediately transferred to another prison."
Elliot, who is now a prisoner in Barlinnie, admitted assaulting Mr Keenan to the danger of his life and Mr Jewell to his injury at Perth Prison on 12 February last year.
He was flanked in court by four security guards wearing riot gear, and three police officers.
The court heard that Elliot has been in custody since he was 16 and had numerous previous convictions for violence.
Solicitor advocate Kirsta Johnston said: "He has a severe personality disorder as a result of growing up in a violent and abusive household devoid of affection.
"He has an inflexible belief that other people will harm him.
"Mr Elliot says one of the prison officers mocked and taunted him about the hopelessness of his situation."
Lady Rae told Elliot: "I appreciate you may find your situation is hopeless, but it is in your own hands to change your ways.
"You waited for the officers to return and attacked them. I would be failing in my duty if I did not impose a custodial sentence."