CCTV released of Brechin public indecency suspect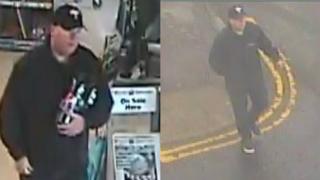 Police have released CCTV images of a man suspected of committing two acts of public indecency in Brechin.
The first incident happened at about 10:40 on 6 February in the Co-op store on Trinity Road.
Officers said the second incident occurred at about 16:30 on the same day in Market Street.
The man was described as being between 40 and 50 years old, about 5ft 7in tall, of large build, with short or shaved hair.
At the time of the incident, he was wearing a black bomber jacket with a white logo, a black baseball cap with a white logo, blue jeans, and dark trainers with white trim.