Public get preview of V&A Dundee Museum of Design site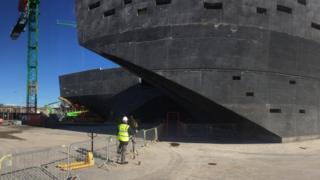 Members of the public will get their first chance to visit the construction site of the Dundee V&A Museum of Design.
The three hour-long tours of the £80.1m building on 1 April have been organised as part of Open Doors Week.
Organisers said the Open Doors events allow people "a unique chance" to see behind the scenes at major live construction sites.
The 45 spaces on the Dundee tours were fully booked within hours.
The tour is being conducted by BAM Construction, who began work on the building in March 2015.
The scaffolding was recently removed from the outside of the museum, which is due to open in summer next year.
Pre-cast panels are currently being attached to the building, with its cofferdam - a temporary enclosure built across a body of water to allow the enclosed area to be pumped out - set to be removed in the summer.