Search called off for bridge fall man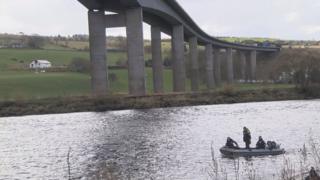 A major search operation for a 25-year-old man who fell from the Queens Bridge in Perth has been called off.
Rescuers from the police, coastguard, ambulance and fire service were called to the scene shortly after 04:00 on Saturday.
The police's dive and marine unit carried out searches near to Moncrieffe Island and around the Friarton Bridge in the following days.
A Police Scotland spokeswoman said the man's family had been informed.
The Police Investigations and Review Commissioner (Pirc) has been instructed to investigate the police's response before the man fell into the River Tay.
The watchdog will then submit its findings to the Crown Office and Procurator Fiscal Service (COPFS).