International karate competition to kick off in Dundee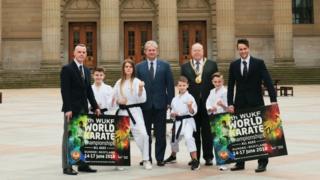 A major annual international karate championship has chosen Dundee to host the event in 2018.
It is estimated the 7th World Union of Karate Federations (WUKF) World Karate Championships for All Ages could generate almost £10m for the local economy.
More than 4,000 athletes, supporters, coaches and officials will attend the four-day event in June next year.
Dundee-based Kanzen Karate Scotland bid to host the competition last June.
Its president Roy O'Kane said: "An event of this size will have a significant impact on our city whilst raising the profile of Scottish karate more generally.
"It's a tremendous honour that the executive committee of WUKF have placed their trust in Kanzen Karate Scotland and the city of Dundee to deliver this competition, but we can and we will."
'Ideal location'
Previous hosts include Dublin, Verona, Liege and Lake Garda in Italy.
Next year's event will be held between 14 and 17 June at Dundee Ice Arena.
Dundee and Angus Convention Bureau estimate that the tournament could be worth over £9.7m to local businesses.
Its business manager Karen Tocher said: "Dundee has proven in recent years that it's an ideal location for international events and conferences.
"Our bureau partners and the city have also all been behind us, by offering competitive rates and services in support of the bid."