Dandy new Dundee ambassador role for Danny Wallace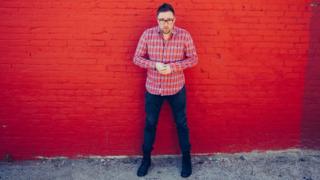 Dundee-born writer and broadcaster Danny Wallace has been announced as one of three new official ambassadors for the city.
Fleur Darkin, artistic director of Scottish Dance Theatre, and Mike Stirling, head of Beano Studios Scotland, have also been appointed.
Mr Wallace, a columnist for GQ, is currently working with two US networks developing pilot scripts.
The 40-year-old said he was "very proud to be from Dundee."
He said: "I've lived in different cities and different countries, but once you're a Dundonian, you're always a Dundonian.
"It's a proud city, and a determined one, but Dundee doesn't take itself too seriously.
"It's the home of jam, jute and journalism, yes - but it's also the home of artists, designers and inventors.
"And it's a funny city. I'm very proud to have been asked to be an ambassador.
"Some people would be happy being asked to be ambassador to Barbados or Fiji - I'll take Dundee."
Dundee's existing ambassadors include Emmy award-winning actor Brian Cox and Deacon Blue frontman Ricky Ross.
Mike Stirling, who was previously editor-in-chief of the Beano, said: "This is a city where comics are taught as a subject at university.
"If that's not a signal of outstanding creativity, I don't know what is."
Fleur Darkin, who directs Scotland's national contemporary dance company from its base at Dundee Rep, said: "Our productions are Dundee made and then we export what we do to the rest of the world.
"Being based in Dundee is a blessing for us, because it's very easy to live and work here and there are good conditions for experimentation."