Carers charity director jailed for stealing donations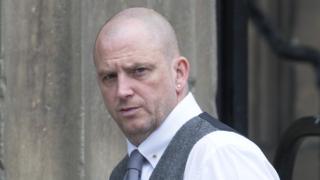 A charity director who stole more than £5,000 worth of donations meant for young carers has been jailed for 11 months.
George McFarlane set up fundraising poker nights but failed to hand over any of the money raised to the charity.
He was found guilty of embezzling the money from Perth and Kinross Association of Voluntary Services (PKAVS).
The 44-year-old also admitted filing false expenses claims of £2,276.
Perth Sheriff Court was told that the £5,118 embezzlement was carried out between November 2011 and June 2014.
McFarlane had worked for PKAVS for 12 years and was managing Young Carers projects when he began the embezzlement.
Abused trust
A four-day trial was told that McFarlane set up several fundraising poker nights in the Glen Bar in Perth.
He failed to hand in the money from any of the events and the court was told that the systems in place to check money raised at the charity were "a shambles."
Depute fiscal Lisa Marshall said: "He had achieved a reasonably high-ranking position and was in the trusted position of care manager.
"He systematically abused this position of trust for his own financial gain by embezzling funds raised at poker events."
Sheriff Gillian Wade said: "It's a great shame you find yourself in this situation.
"You are not a man I would have expected to see in these courts.
"You find yourself convicted of a serious offence when you were in a position of trust.
"It's not something I can treat lightly and a custodial sentence is the only option."