Surveyor jailed for £230,000 Ponzi scheme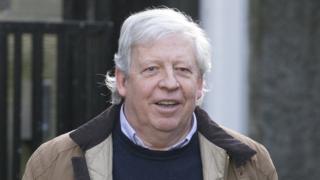 A surveyor who defrauded family and friends out of almost £230,000 has been jailed for 27 months.
Peter Plimley told victims his Ponzi-style spread-betting scheme was a "virtually foolproof" way of making money, when in reality it was making huge losses.
One woman lost the £28,000 critical illness payment she was given after being diagnosed with breast cancer.
Plimley admitted embezzling £228,359 between 2011 and 2013.
Ponzi schemes use money from new investors, rather than money from legitimate profit, to pay initial investors, making them think they have invested in a successful enterprise.
The 68-year-old, of Newtonmore, was living in Kinfauns, Perthshire, when he formed the scheme and fooled investors into thinking he was a financial expert.
Perth Sheriff Court was told that Plimley only made a profit from three investment periods while had had lost money on 42 occasions.
When it became clear the scheme, using spread betting website IG Index, was losing large amounts, Plimley turned it into a Ponzi-style project by paying some investors with other people's money.
'Big crime'
The court was told that Plimley sent an email to his investors pretending he had lost all of their money in a single day.
He told one it had "gone in 30 seconds" due to a collapse in the US dollar and human error in forgetting to put a stop limit of the losses the account could handle.
Depute fiscal John Malpass told the court: "Rather than coming clean he kept them in the dark in the hope he could turn things round.
"Four of the investors received their initial sums and substantial profits back.
"It is reasonable to infer the monies handed over to them had been given to the accused by other investors and was being recycled.
"The embezzlement had become a Ponzi scheme."
Plimley's nine victims included neighbours Scott and Gillian Cairns, who lost nearly £88,000.
Plimley's brother-in-law Roy Allan lost £33,000, while Mr Allan's ex-wife Diane lost £20,000 and his son Steven lost £16,500.
Sheriff Gillian Wade said: "He knew perfectly well what he was doing. The consequences are significant for a large number of people who have lost their life savings.
"He continued to take money from people who could ill afford to keep giving him it so he could continue gambling on his scheme.
"He stated he does not think it is a 'big crime'.
"This is a big crime for which there has to be a considerable punishment."