Woman rescued from Devil's Pulpit gorge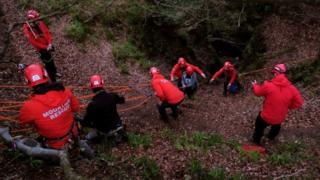 A woman has been rescued from a deep gorge in rural Stirlingshire after being unable to climb back to safety.
The woman, who was in her 20s, had descended a steep, slippery slope in the Devil's Pulpit, a gorge in Finnich Glen, on Wednesday evening.
Lomond Mountain Rescue Team were contacted by police after the woman's friend raised the alarm.
The woman, who was uninjured, was lifted out of the gorge by the team using a series of ropes and pulleys.
A Lomond Mountain Rescue Team spokesman said: "Team members quickly arrived, sending individuals down to prepare her for the hoist out and establishing the rope system.
"The grateful explorer was extricated, none the worse for her adventure, within the hour, in fading light. "